The Digital City Expo 2020: Best Bits
In what will probably be my last social gathering for a while, I was thrilled to attend the Digital City Expo last week.
Taking place at Manchester Central, the event played host to agencies, brands and telecoms companies, many of whom held talks on industry updates. Of course, the dreaded C-word saw some last-minute cancellations, but there was a strange camaraderie as we banded together, knocking elbows and smiling through it.
Will Smith: the new face of AI?
Kicking off proceedings was Andre de Gaye, a former colleague and strategic partnership manager at PureClarity. He gave us plenty of food for thought, in terms of ecommerce personalisation and AI. Even in 2020, people still fear AI, with one Wordle study revealing people associate it with robots, losing their jobs…and Will Smith.
On the upside, he mentioned that machine learning could be a force for good as it has no emotional bias. He also discussed the 'double denim' effect with lazy personalisation. It's not enough for ecommerce sites simply to recommend a similar product. We can use AI and deep learning to automate even more personalised campaigns, recommending complementing items.
Squint tests and Gordon Ramsay
Over in the Marketing Masterclass, we saw the Force24 team discussing how to assess the value of our content. First up – whenever you create content, you need to ask: does it pass the squint test? This essentially means the message still comes across, squinting or not.
They also mentioned that Gordon Ramsay would never send out bad food. Nor should we put out bad content. It was here that we discussed marketing 'touches' – essentially, how many times a message needs to be repeated over one channel to take effect. The team took us through an interesting proposition:
Shall we go to the pub?
Idea: "Shall we go to the pub?"
Social proof: "Laura's coming."
Gain: "I'll buy you a pint."
Fear: "You don't want to miss out!"
Logic: "Go on. It'll be fun."
Urgency: "Grab your coat."
These represent those 'touches' and how we should structure content.
Mapp Digital's Ricardas Montvila took us through some sobering stats about analytics in ecommerce. It turns out, not many of us understand analytics – just 2 per cent! More than half of us make marketing decisions based on gut feeling alone. But ultimately, it's about our end goal – as he put it, marketing is like a sport. You're either in it for the long-term benefits, or the big wins!
Digital City Expo Day 2
On Day 2, after catching up with the Prolific North team, I managed to swing by Richard Guttridge's talk on how to build a brand in an 'age of deceit'. Again, we saw some very eye-opening stats here: for example, 50 per cent of us judge a brand based on its CEO.
He also exposed just how fickle the general public is. Citing the Cadbury's case, he noted how quickly we forgot a salmonella scandal when they released an advertising campaign with a drumming gorilla. There's also the definition of the general public to question. We have the general public and the informed public, so we need to consider how we're framing our information.
This one particularly struck a chord with me as I'm so fascinated by fake news. It's a common theme in the Reuters Digital News Report, and even more timely at the moment. Richard cited sources like the Edelman Trust Barometer, which I'm definitely going to look into.
Expecting the unexpected
Alex Lei of Fat Media made some key points about unpredictability with marketing strategy. He challenged the basic conventions of marketing planning, warning that the traditional 'strategy, plan, campaign' model is inflexible.
Big events can happen, of course, and what a fitting talk this was. As we all fret over the coronavirus, it's evident that we need to be adaptable when planning campaigns. Alex thus advised three key actions:
Plan: have a direction of travel and think about how we respond to problems. Set your direction with flexibility in mind, focusing on the customer rather than the channel.
Prepare: don't over-plan – instead, use small, agile platforms and a bank of ideas from which to draw inspiration. Quality will always beat time, so don't rush to send out an unfinished product.
Pivot: measure frequently and be mindful of warning signs. Make room for experiments, and don't let 'business as usual' get in the way.
Redefining creativity: "data is worth more than oil"
Day 2 culminated in a talk from keynote speaker Jake Welsh, MD of Dept. Saving the best until last, we saw a shrewd analysis of 2020's customers, and how, as marketers, we should target them.
He won me over straight away when he said he hated the word 'data'. He then presented us with two case studies of some very sexy products: thermostats. One extolled the virtues of its buttons and free delivery; the other talked about how it used AI to keep you warm as soon as you wake up.
Guess which one sold more. The reason being, consumers make buying decisions around the following:
Feelings
Behaviours
Habits
Emotions
Desires
Ambitions
Worries
Jake exemplified this with a beautiful case study on Ascot Racecourse. Their prior marketing strategy was to focus on the prestige of Royal Ascot and the racing itself. When Dept took them on as a client, the team conducted some consumer research. They discovered that racegoers were more worried about food, drink and fashion than the racing itself. This sparked a dramatic shift in the racecourse's marketing. For the first time, horses were featured in the background on the artwork. It resulted in a huge increase in conversions, because it helped to allay customers' anxiety.
Takeaways from the Digital City Expo
Of course, the expo was about so much more than the talks. I had a lovely evening out with the Beacon team, and also chatted to some new prospects as well. (Top banter from Colewood.) I'm looking forward to catching up with the team at Modo25, Fat Media, Digital Media Team and Verse when all of this blows over. It was lovely to see some current clients too – even if the Mosquito team's stand had an impossibly difficult game.
Despite all the doom and gloom going on in the world at the moment, the expo was, without exaggeration, a triumph of the human spirit. I went away with new connections, and a few things to think about:
The new power of AI
Flexibility in marketing planning
Crisis management
Fickle customers
Emotions-based marketing
It was lovely to bump elbows with you all. Until next year, Digital City Expo!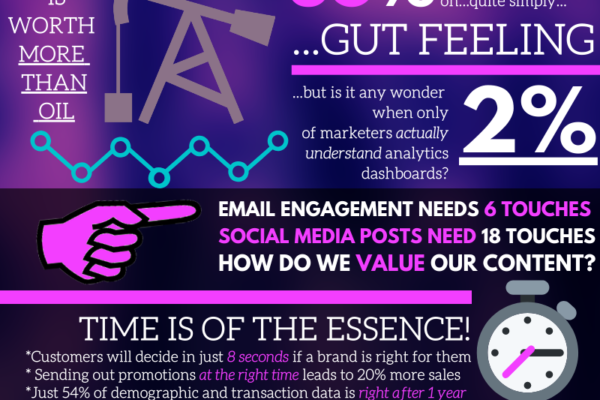 by Katie Lingo
20th March 2020